Karen Schaler | Jul 15, 2009 | Comments 0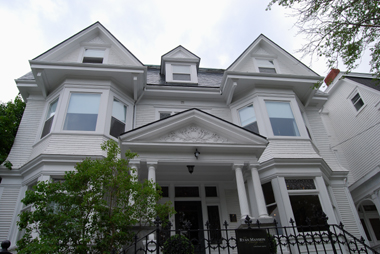 You know you're staying someplace special when you pull up outside your Bed & Breakfast and go "wow"! That's exactly what I did when I arrived at The Ryan Mansion in St. Johns, Newfoundland, my first stop on my Newfoundland adventure.I pulled up to The Ryan Mansion at about midnight after taking a non-stop Continental flight from Newark to St. Johns, that took about three and half hours. Thanks to GPS I found the B&B without any problems because I had heard St. Johns can be tricky with its quaint one-way streets, etc, and I was a little worried navigating around at night.
One of the owners of  The Ryan Mansion had kindly waited up for me to make sure I got in all right and had everything I needed to settle in for the night. From the moment you walk in the door there is this sense you are stepping back in time. The first thing you'll notice is this awesome English white oak wood carved staircase that was made with the same wood and by the same people who built and installed the grand staircase on The Titanic! The Titanic sunk off the coast of Newfoundland in 1912, but  let me tell you this stunning B&B is no sinking ship!
Built in the Queen Anne style, the same time the Titanic was being built between 1909-1911, The Ryan Mansion was originally the home of Newfoundland's famous James Ryan who back in the early 1900's owned more than 200 schooners that were involved with the profitable fish trade with Europe.  When he built this ornate home, that's more than 14,000 square feet,  it was to be the most impressive home in St. Johns and was simply called "The House".
The current owners, Kevin Nolan and Robert Hall, both locals, have been in the business of resorting historic homes for more than a decade and when they first saw Ryan Mansion knew it would be something special restored to its old glory so a two  year journey started to do just that.
The Ryan Mansion, with six exquisite rooms,  is now opened to guests and it is getting all kinds of buzz for its Titanic themed getaways featuring a six-course dinner that's based on the last meal they had on the Titanic. Actual replica china  from the first class dining saloon has been imported from the UK with gold lining and a logo finished in 24 Karat gold and it's used for the dinner.
One of the things I love most about The Ryan Mansion is the attention to small details throughout the home that makes it truly special. The décor is classy and chic, but still somehow fits with the time and hisory of the home, and the artwork you'll find in each room is unique and modern with many of the paintings done by local artists.
My room #203 has this gorgeous four poster bed with exquisite Frette linens and a fireplace just steps away. There are two plazma televisions, not that I never turned them on, and you'll also find another fireplace in the bathroom across from a huge couple-sized jetted tub with L'Occitane en Provance ammenities. This room has such a comfy and classy feel. This is the same room where k.d. Lang stayed when she was in town for a concert and I can see why she loved it so much!  For one thing the tub is in a fantastic sitting area where you can easily spend hours reading a book or relaxing.
Of course just a short walk away you have St. Johns to discover so as amazing as The Ryan Mansion is you'll want to venture out and explore the area. Just make sure you make time for a soak in the tub! Each room has one!
For more: www.ryanmansion.com
Next up…exploring St. Johns!
Filed Under: A BLOG! • Affordable Finds • Travel Therapy Favorites
About the Author: Karen Schaler is a three-time Emmy award-winning TV correspondent, author and creator and host of the globally syndicated TRAVEL THERAPY online & TV video series featuring top places to visit based on what you're going through in life.
Comments (0)