When it comes to TRAVEL THERAPY and picking the right couples vacation or couples retreat it always surprises me how many people completely get it wrong. On this Travel Tuesdays feature we check what you need to know to get the best travel deals and how to find the best trips for couples.
It starts off in the planning stages and most couple's mean well but they often end up  picking a couples vacation or couples retreat that's not conducive to truly reconnecting and spending quality time with each other.
If you want to pick the best couples vacation that's right for you, you have to find a place that you both will enjoy, where the focus is on spending time together not where you go one way and your significant other goes off in a separate direction.
If you're truly looking for a couples vacation where the focus is getting some serious one on one time then you don't want to go on a vacation with a bunch of other couples where the guys inevitable take off in one direction and the girls all hang out together and you all hook up later that night.
Even if you have the best intentions when you head out on your couples vacation this disconnect usually ends up happening, defeating the purpose of going  off together in the first place. Planning the right couples vacation can be simple if you just keep some key tips in mind.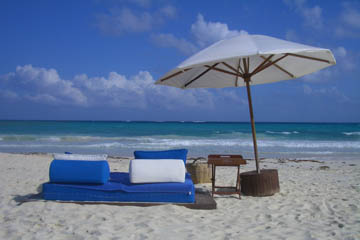 Top 10 Tips for Planning the Best Couples Vacation
 Pick a place you both want to go

Research your destination together so you're both involved
Chose destinations where you're both learning something new
Find activities you can do together
Leave the BlackBerry's and computers at home
Leave the kids at home and then don't worry about them
Splurge on your favorite indulgence, fine dining, wine, etc.
Try something new together you've never done before
Make a new tradition
Select romantic destinations that help set the scene
So what are some top TRAVEL THERAPY romantic destinations that are ideal for the best couples vacations?
Of course it depends on each individual couple and what you enjoy doing but often heading to a quiet tropical beach can work wonders to help add sizzle to any relationship. The key here is quiet, not picking a place that's party central.
Top 10 TRAVEL THERAPY Destinations for Romance
Peter Island, BVI

Virgin Gorda, BVI
Anguilla
Jumby Bay
Maya Riviera, Mexico
Hawaii
Mustique
Palm Island
Bora Bora
Greek Islands
Coming up next week in the TRAVEL TUESDAYS feature we'll profile some of the top resorts for romance.
For more unique top romantic escapes check out chapter three in my new book TRAVEL THERAPY: Where Do You Need to Go? featuring dozens of inspiring destinations around the world based on what you're going through in life. The photographs alone will inspire and empower you to book your next trip! Click HERE for a  special 35 percent discount on the book on amazon.com.
 You can also find the latest travel specials and insider tips by following TRAVEL THERAPY on Twitter and Facebook.
 Have you had your TRAVEL THERAPY today?
 Twitter: Traveltherapy
Facebook: Traveltherapy