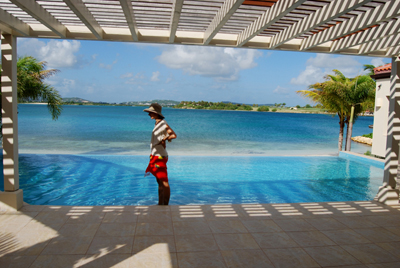 If you're making your holiday wish list and you're looking for some top beauty products to help you look your best at holiday parties, when you're traveling or when you're just home with your family you'll want to check out this year's list I've put together of my personal favorite products. These are not only the best of the best but are travel friendly so they'll fit in your carry-on so you don't need to check your bags if you're flying.
I first starting putting this list together because so many people kept asking me how I'm able to travel around the world as a TV travel and lifestyle correspondent doing the TV & online TRAVEL THERAPY series and only travel with carry-on luggage.
The list below includes my favorite travel beauty products that have helped me look my best when on the road and when back home. Of course, I don't bring everything below on each trip but select from the list the products that best fit the trip I'm taking.
I'm always searching for new items to try so if you have any favorites that have worked well for you I'd love to hear about them!
Top Travel Beauty Products for 2013
Kerstin Florian Rescue Cream
This moisturizer is pure heaven and definitely lives up to its rescue name because no matter how parched my skin feels after a long flight or spending time in a cold, dry climate, this luxurious feeling all weather crème feels so nourishing and comforting I won't travel without it.  For more: www.kerstinflorian.com
Sjal Saphir Concentrate
I've been addicted to the Sjal Skincare line every since I first tried it last year and this newest addition is ideal for travelers battling road weary skin because this weightless anti-aging face oil is infused with energy from Himalayan blue sapphires and aquamarine gemstones to help hydrated, calm and balance your skin. Celebrity make-up artist (clients include Penelope Cruz, Salma Hayek, Katie Holmes, Heidi Klum and Scarlett Johansson)  Matthew Van Leeuven agrees saying, "Sjal Saphir Concentrate face oil has become an obsession for me. This amazing oil is a mega-dose of nutrition for the skin. It repairs and regenerates at a deep level." For more: www.sjalskincare.com
Joanna Vargas Rejuvenating Serum & Daily Hydrating Cream
For an on the road luxurious facial experience I turn to celebrity skincare expert Joanna Vargas and her special serums and creams. My travel dehydrated skin drinks up the Rejuvenating Facial like a gift and when followed by the Daily Hydrating Cream I feel completely pampered and renewed. Vargas told me, "My Exfoliating Mask is great after a day on the beach or on the slopes for getting rid of all the clogging sunscreen in your pores and preps the skin for makeup if you are going out for a night on the town." I love this because I always load up on sunscreen and sometimes have a hard time getting if off so this mask works quickly and gently. For more: www.joannavargas.com
Kate Somerville Quench
Before a flight I use this ultra hydrating and light facial serum as it helps protect my skin against the not so friendly recycled airplane air and I love that it's easy to travel with and doesn't have scent so I can be a considerate flyer. For more: www.katesomerville.com
ESPA 24-Hour Eye Complex
This rich eye cream with Ginkgo Biloba and pure essential oils helps protect, sooth and rejuvenate my skin so I arrive at my destination looking bright eyed and ready to tackle anything. For more: www.espaonline.com
Lancer Skincare Nourish AM/PM Nourishment
I found the 2oz travel size of this multi-peptide, powerhouse moisturizer, featured on the Oprah Winfrey Show, a great go to when you want one delicious facial cream you can use both day and  night help nourish and hydrate your skin. For more: www. lancerskincare.com
Clarins Radiance-Plus Golden Glow Cream-Gel
With my sensitive fair skin this gentle self tanner is the only one I've found so far that I trust using on my face and it always leaves me with a healthy, natural glow. For more: www.clarinsusa.com
Natura Bisse Diamond Extreme
No jet lagged look for me when I use this powerful hydrating face cream that protects against frequent flying and weather pollution no matter where you may be traveling to. For more: www.naturabisse.com
Jane Iradale Eye Shadow Kit Daytime
This fun small eye shadow kit gets extra points for being compact and including five colors giving you all kinds of make-up combo's you can try and includes a convenient mirrored compact with an application brush. For more: www.janeiredale.com
Know! Shampoo & Conditioner
This low toxicity color safe combo helps keep my hair shinny and healthy no matter what country I'm in and what water I'm using to wash my hair with. For more: www.knowhairandbody.com
Oribe Hair Care Impermeable Anti Humidity Spray
Heading to the beach or a humid climate the purse size of this Oribe product is perfect for helping to keep your hair polished anytime, anywhere. Also fun to try Oribe's Collection Travel Set, that comes in 7  slim packettes that will fit into any carry on. For more: www.oribe.com
Favorite Travel Beauty Product Gift Ideas
Kerstin Florian Beach Bag Essentials
I love this fun travel friendly bag of goodies that includes my favorite Sun Protection SPF 30 for face and body, the rich Multi-Vitamin Day Cream SPF 30, Neroli Water, Lavender Body Spray and a special balm that's ideal for soothing your travel weary feet. For more: www.kerstinflorian.com
Jane Iredale Chocoholicks
This yummy compact with four irresistible chocolate-y shades of hydrating lip gloss is chic and easy to travel with and is even gluten free. For more: www.janeiredale.com
Deborah Lippmann Fast Track Manicure Essentials
For quality do it yourself manicures the road this handy kit offers five mini nail treatments including cuticle remover, cuticle oil, primer, base coat and a quick dry top coat. For more: www.deborahlippmann.com
Sonia Kashuk Cosmetic Bags
Fashionable, functional and affordable Sonia Kashuk's collection of cosmetic and travel bags, available exclusively at Target, are ideal to help keep you organized on the go. For more: www.target.com
Cool Travel Beauty Products Under $10
Yes Cucumbers Hypoallergenic Facial Towelettes
The compact travel size towelettes make it a snap to refresh on the go and you get 30 for just $5.99. For more: www.yestocarrots.com
Yes to Carrots Sweet Fig Lip Butter SPF 15
Love the texture of this lip balm with Shea Butter, vitamin E and Zinc Oxide and that it includes SPF15. $3.49 For more: www.yestocarrots.com
Topshop Nail Varnish Remover
The small chic packing of these soft nail polish remover pads makes it ideal and easy for travelers wanting to keep their nails looking their best. $3.00 For more: www.topshop.com
Do you have a favorite beauty product you can't live without when you travel? I'd love to hear about it! Just leave a comment below and let's help each other find the very best ways to travel pretty in 2013!