It's no secret when it comes to scouting out my favorite TRAVEL THERAPY experiences in NYC I'm always drawn to places that have great food and drinks where you can relax and escape NYC's non-stop pace and that's exactly what I found this week at the opening of  The Garden by David Burke at The James in NYC.
I've always loved David Burke's cuisine, unique, fresh and inspired, so it was a real treat to check out his new outdoor garden venue at The James where you feel like you're hidden away in your own Secret Garden surrounded by insanely good food to nibble on and creative cocktails to keep things interesting.
Some of my favorites tasty treats…Chef Burke's Angry Octopus with chorizo and the Angry Lobster Roll, although I don't know what they're so angry about, they're both crowd stopping delicious!
Also don't miss trying the Smoked Pastrami Salmon, the Hamachi Crudo and the Tuna Tartar Tacos, ideal for the outdoor setting when you want something satisfying but still light.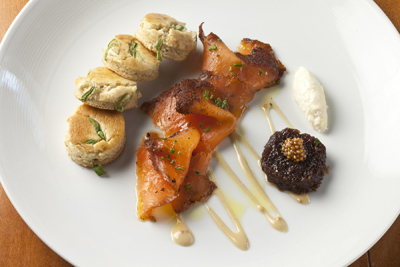 Honesty, I could have stayed here all night, and wanted to, but I had to drag myself away because I had another event I had promised to attend…but not before snagging one of David's signature  Cheesecake Lollipops that always make me feel like a kid again.
In a word, the new Garden by David Burke at The James…BLISS!
Check it out for yourself and let me know what  you think!
For more: The Garden By David Burke