Just finished shooting our second ABC Travel Show. In this one I highlight some top spas from around the world that I found when traveling and researching my TRAVEL THERAPY book. GMA's Marysol Castro and I shot our segment at the fabulous Mandarin Oriental Spa in NYC.
 We actually shot in the ultra exclusive VIP room, a celebrity favorite hideout for A-listers looking for the ultimate spa escape that guarantees complete privacy!  The VIP spa room at the Mandarin Oriental starts at around $1,100 dollars to have the room for 3-hours and that includes two spa treatment and some yummy snacks.
 For our shoot we hung out on the huge Asian inspired day bed and nibbled on the yummy bento box of goodies they brought us. Here's a great shot of the ABC Travel Show Team!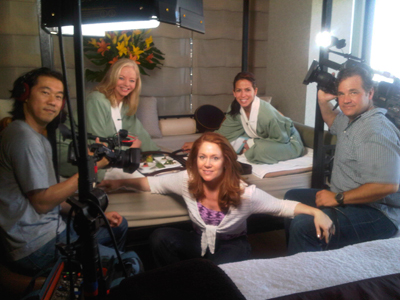 What's great about this VIP spa room is that it has floor to ceiling windows looking out over Central Park. Talk about top, prime real-estate to have in NYC for a spa! Just the view alone is inspiring and relaxing.
For my segment I concentrated on some of the top spas in the world offerin up a variety of different experiences and destinations and also found spas where you can get some great specials right now like 30 percent off and one night free at the resort.
For this super cool ABC Travel Show we also enlisted the expertise of a good friend Lisa Kasanicky who is one of the best spa specialists I know and she lives in the heart of spa Mecca of Phoenix/Scottsdale Arizona! Lisa's the founder of www.Arizonaspagirls.com and the author of "The Complete Idiot's Guide to Girlfriend Getaways." The book is a fun read and makes a great gift and of course includes spas so check it out by clicking on the name of the book because it's also on sale! Love it!
The key to good TV and a winning travel show is having experts on that are truly passionate about their topic and Lisa has been passionate about spas for more than a decade! So you won't want to miss this next ABC Travel Show. I'll be sure to the post the link as soon as it airs!!
 For more inspiring spa vacations be sure to check out the spa link on this site and you can pick up a copy of my new book Travel Therapy: Where Do You Need to Go?
 You can also follow the Travel Therapy journey on:
 Twitter: www.twitter.com/traveltherapy
Facebook: TravelTherapy